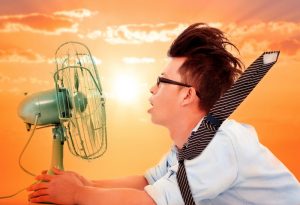 Now that the weather is warming up again in Riverside, it's time to start thinking about how you're going to stay cool. This can be quite the job to do when you live in our area. Not only do we live in Southern California, but we also live inland. The temperatures rise quickly here and tend to bake us all summer long. Because of this, you might notice that you have difficulty getting your home to get cool or stay cool with ease. The addition of a whole-house fan in Riverside, CA can change all of this. 
If you're ready to change the efficiency and comfort of your home, then this is an easy way to do it. This is one of the best ways to beat the heat. We realize that not too many people are familiar with whole-house fans so we'll give you everything you need to know below…
What Are Whole-House Fans?
Let's start off by defining exactly what whole-house fans are and what they are not. Whole-house fans are fans that are meant to ventilate your entire home. They work by having the entire fan pull air from your open windows and exhausts through the attic and roof. This is something that's very beneficial to your home because your attic is one of the main places your home harbors heat.
Have you ever heard someone tell you to put on a hat and socks to warm up quickly when you're cold? This is because we lose the majority of our heat through our head and feet. Similar logic applies to your attic. You can think of the roof as the "hat" it's always wearing and a whole house fan as your home's version of taking off its hat and fanning itself. 
Whole house fans can be one of your biggest allies. Let's get into some of their benefits below.
The Benefits of a Whole-House Fan
Here are a few reasons why you should consider a whole-house fan for your space.
Reduces Use of AC System
Your whole house fans reduce your dependence on your air conditioning system. The cooling that these systems provide will help you turn to your thermostat less, boost your efficiency, and lower your overall home operation cost.
Environmentally Friendly
If you're trying to go green, make sure you consider this fan. As we mentioned above, a reduction in your dependence on your AC system for cooling is a win. After all, the AC unit is the biggest energy consumer in the home.
Fast Performance
One of the best things about a whole house fan is that it can reduce the overall temperature of your home by about 10 degrees shortly after you turn it on. If you continue to cool your home using this fan over an extended period of time, it can cool your house down by about 30 degrees.
Choose Professional Service
The only tricky thing about a whole house fan is its installation. Make sure that you trust professionals like ours to get your whole house fan installed perfectly. This is a bit of a nice service in our area but luckily our experts have the expertise necessary. We'll make sure the entire process is as stress-free as possible. 
Contact RKM Heating and Air Conditioning to schedule an appointment with our professionals. Done Right, Priced Right.