RKM Heating and Air Conditioning Comfort Club Service Maintenance Agreement
If you have spent any time reviewing the various services that we offer on our website, then you certainly already realize how serious we are about routine HVAC maintenance. Why is that? Because we are serious about helping our clients to enjoy all that their HVAC systems have to offer them—and because we are serious about your 100% satisfaction, we are also serious about your convenience, which is why we offer a comprehensive maintenance plan in Riverside, CA.

Do I need to perform maintenance on my systems?
Air Conditioner and Furnace filters, coils, and fins require regular maintenance for the unit to function effectively and efficiently throughout its years of service. Neglecting necessary maintenance ensures a steady decline in air conditioning performance while energy use steadily increases.


Feel free to contact us with any questions that you may have, and remember that we also offer maintenance plans for commercial property owners. You can count on RKM Heating and Air Conditioning to keep your equipment running smoothly.
New, smart maintenance plans!
24/7/365 performance monitoring provides real time system performance & efficiency reports.
Ten professionally installed sensors analyzed 32 functions to keep you comfortable and your HVAC working.
Eliminate breakdowns with justified minor repairs and increase the performance and efficiency of HVAC.
Club Memberships
As a club member, you will satisfy the maintenance requirements by all manufacturers.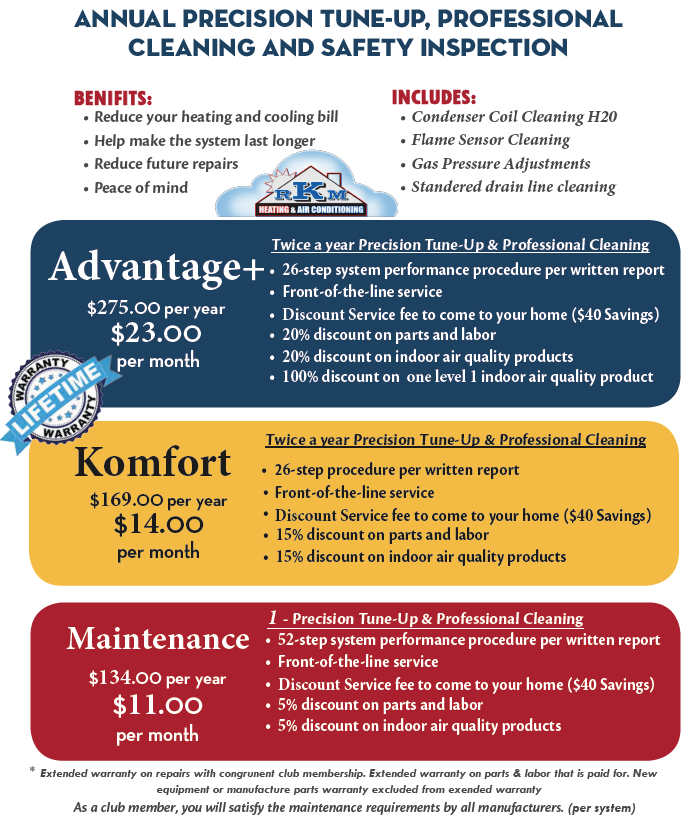 Our Maintenance Plans Keeps Clients Comfortable
We are the first to admit that routine heating and air conditioning tune–ups will not complete eliminate the risk of problems developing with your HVAC systems. However, we also know firsthand just how beneficial these services are. After all, they are not intended to completely eliminate operational issues. They are designed to minimize the frequency of such occurrences thanks to preventive care, and to surface developing issues so that they can be resolved before real damage is done.

Done right, priced right. RKM provides the highest quality, for the best value.