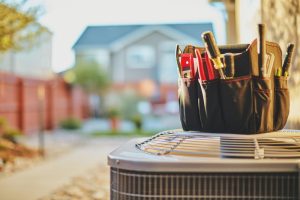 Winter doesn't really play by the same rules in Southern California. It's November, but it's really just starting to get chilly here.
We know that you're probably used to having warm summers here, but this summer was particularly long and hot. We know that you're probably looking forward to the cool down. Now that the temperatures have cooled off, you might want to flush your air conditioner right out of your mind and focus your sights on your heater. Although it's easy to get into this mindset, we want you to pay attention to your AC for a little while longer to ensure that your home is always in amazing shape.
We're here to perfect your HVAC in Ontario, CA. You can get exactly what you need from our professionals. Call us if you had air conditioning trouble—we'll get your home right.
AC Problems You Should Call For
Did you experience any of these problems this past summer? If you did, then you're going to need to wrap up this problem before winter really sets in. You'll thank yourself when spring rolls around next year.
1. Short Cycling
Your home's air conditioner ran in short incomplete cycles all summer. The entire season was marked by the sound of your home's air conditioner starting up multiple times an hour.
You thought this was odd, but it didn't really affect your home's cooling, so you let it go. What's the harm after all? Well, the direct harm is to your home's efficiency. If you're noticing short cycling, you need to stop and schedule an appointment with our team members.
2. High Energy Bills
You noticed that your home's energy bills crept up and up as the summer and fall seasons marched on. This shouldn't be happening as long as you're running your home's AC the way that you always have. If everything is normal but the bills are skyrocketing then it means that you're paying for inefficiency.
3. Unsatisfactory Cooling
You were hot all summer even with your AC unit. You had to equip your home with fans and other tools. This is a bad sign. Your AC should be able to handle your home's needs and if it can't, then you need to schedule an appointment for repair work.
4. Odd Sounds
Do you hear alarming sounds like banging, scraping, squeaking, or even rattling? Each sound indicates a different problem happening below the surface. Our professionals have fine-tuned ears to decode these sounds. We're here to help you solve the problem.
5. Bad Scents
Your home's air conditioner makes your home smell bad. There's really no nice way to say it—it stinks! You're not sure what the source of the problem is with your air conditioner, but you know you want this problem to go away. It's embarrassing and it means you spent a long summer lighting candles and spraying air freshener through your home.
You shouldn't have to do any of this. You can have our professionals eliminate this problem with repair work.
Contact RKM Heating and Air Conditioning today to schedule an appointment for AC work. Done Right, Priced Right.