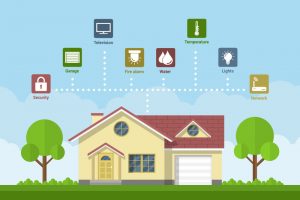 Nowadays, we are surrounded by "smart" technology. It's rare to find someone without a smartphone; our televisions have their own app stores; there's even a smart kettle, which is admittedly much more trouble than it's worth. But the bottom line on all the smart stuff is this: you only need it if it makes sense for your needs.
Of all the smart applications out there, we think making your home a smart home with home automation services is something that most people can get on board with. It may sound excessive at first, but after you understand some of the benefits, you might start wishing you had one.
Monitor Your Home Security
If you spend any time online, you may have recently seen some viral videos in which mail thieves are caught red-handed stealing packages from a home's front doorstep. Well, the camera that captured these thieves were none other than those used in home surveillance systems. Even the most budget-friendly security systems are now capable of being integrated with your smartphone and as part of your larger home automation system.
If you're in bed and hear something suspicious out front, you can check out the situation by staying where you are and simply pulling up the feed on your phone, tablet, other compatible devices. With home automation, you can forget those old days of having to peer through the blinds to try and get the upper hand on the stranger outside (plus, you were never as sneaky as you thought you were).
Save on Heating and Cooling
Another great benefit of a home automation system is your ability to control and monitor your HVAC units.
For one, you don't have to get up to change the thermostat if you have your phone in hand. That might not sound life-changing, but there's more to it than that:
Never forget to turn off the heater or air conditioner again. If you leave the house or come home later than expected, your HVAC unit's schedule won't know the difference and will just keep blasting air. With wireless remote controls, you can adjust the temperature from anywhere with an internet connection.
Wireless access will also give you insights into how the system is performing. Accompanying software can show you the numbers on how much energy you're using and when you should cut back to save money.
If your HVAC unit develops a problem that affects the efficiency, you can get an alert sent to your device notifying you that it's time for maintenance before it can become a bigger problem.
Enjoy the Little, Convenient Things
A fully-integrated home automation system also opens the door for several smaller conveniences that can really add up in the long-run. To give you just a few examples:
You can turn the lights on and off from your device, or you can check to see if you've left them on. Great for when you're lazy or for when you've left the house and need to alleviate that nagging suspicion in your mind.
Remotely checking to see if you left the garage door open, and closing it if it is.
Locking the front door or unlocking it to let in a guest or housekeeper, all without having to give them a copy of your house key.
The list goes on!
For more info on how a home automation system can benefit you, contact RKM Heating and Air Conditioning.