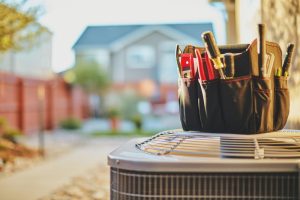 We know that summer is pretty much over. If you've been out to any stores lately, we're sure that you've been bombarded with fall-themed clothing, home décor, drinks, and food. Everyone is the autumnal spirit… but we live in Southern California. It's safe to say that it's still hot and that it's going to still be hot well into October. If you're having trouble with your home's air conditioner, you need to schedule an appointment with our team.
We specialize in air conditioning repair in Ontario, CA. We don't want you to worry about anything when it comes to your home's air conditioning repair. Make sure that you invest in the right care for your home. It will benefit you throughout the rest of this warm weather season, next summer, and all the summers after that.
AC Problems You Need to Address Before Summer Ends
Here are a few reasons you should contact our professionals for AC care:
1. Short Cycling
Have you noticed that your air conditioner seems a little defiant lately? You turn it on, and it decides shortly after that it actually wants to turn off. Then in a surprising turn of events, it turns on again. This is what's called short cycling. It's a problem and you need our professionals to address it.
2. Low Airflow
You're sitting in your home after you've turned on your air conditioner and waiting for it to get cool… but that cool never comes. Something has changed with your air conditioner this summer. If you're having trouble like this then it's more than likely due to poor airflow. We'll help you fix this issue.
3. Loud AC Sounds
If you notice sounds like banging, rattling, squeaking, squealing, etc. you're going to need to schedule an appointment with our professionals. Each sound indicates a different problem. This isn't something that you want to ignore—loud AC signs are the early warning signs of trouble.
4. Incorrect Thermostat Readings
Sometimes your thermostat reading might be a couple of degrees off—after all your thermostat reads the temperature directly around it. If your thermostat reading is glaringly wrong though, you're going to need a little help from our team.
5. Foul Smelling Odors
Your air conditioner should never emit a scent—especially a foul one. If it does then you need to get in touch with us for repair work.
6. Warm Air
Have you noticed that it takes your home way longer to get cool? Maybe you have to run your air conditioner at even cooler temperatures according to your thermostat. This is a problem that stems from warm air. We can help you solve it.
7. Leaking
Have you noticed that your air conditioner is leaking? This is a bad sign. You don't want your air conditioner to leak. If you notice that your outdoor unit is springing a leak from time to time, then you need to contact our professionals sooner than later.
Contact RKM Heating and Air Conditioning today to schedule an appointment with our team members. Done Right, Priced Right.