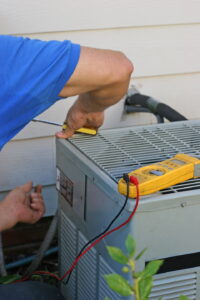 Fall is upon us and soon it will be time to switch your thermostat over from cooling to heating. But does that mean you're done with your air conditioner for the year? Maybe not. If you haven't already scheduled an AC maintenance appointment this year, go ahead and do so now.
Remember, you want to have a Riverside HVAC contractor with the right certifications and licenses do the work. Our team is here to help. We can complete for maintenance for your air conditioner so that you can turn it off this fall and winter with peace of mind. You can also keep reading to learn more about the benefits of scheduling air conditioner maintenance right now.
Benefits of Fall Maintenance
Fall is almost the perfect time to schedule service for your air conditioner. We are past the really busy season and things are slowing down temporarily until we are busy again with heating services in the winter.
When you schedule air conditioning maintenance in the fall, you can turn the unit off for the winter knowing that it is in the best condition possible for the coming year. When you are ready to turn your AC on in the spring or summer, you will know that that is ready to cool your home all season long without any problems.
There are other many benefits, too. These include extending the lifespan of your heater, improving energy efficiency, and making sure that any safety concerns get addressed early. It's great to know what the benefits are, but you may be wondering exactly what happens during an AC maintenance appointment.
What Happens During Professional AC Maintenance?
Below, we are outlining the various ways that we check your air conditioner to ensure that everything is working properly. If we notice anything out of the ordinary, we will talk to you about it. Sometimes we can repair components, but other times we need to make replacements to keep your air conditioner running great.
Lubricate parts. You may have heard the saying, 'a well-oiled machine.' That's exactly what your air conditioner is when it starts out brand new. But over time, the lubrication in between all of your components dries up. Additionally, dust and dirt get into these tiny crevices and make it even harder for components to work together. During maintenance, our team cleans out any dust and dirt and re-lubricates your parts so that they can work together seamlessly without any issues.
Check the blower fan. We also checked the blower fan, which has a very important role inside of your air conditioner. We want to make sure that all of the attached belts are in good condition, and that the fan blades are all even without being off balance or bent.
Check electrical connections. When it comes to safety, we want to make sure all of your electrical connections are secure. If we notice any loose wires or components that seem questionable, we will address the problem right away.
Clean the condensate drain line. We also want to make sure that your condensate drain line is free from clogs so that you don't have mold and mildew developing in the drain line over the winter season. Otherwise, the result is a clog that causes leaks when summer rolls around again and you turn your air conditioner back on.
Test the thermostat. There are many times that your air conditioner seems to have issues, but the problem is really with your thermostat. We will also do some testing with your thermostat to make sure that is working as it should. After all, your thermostat also has to be in good working order for the fall and winter seasons, when you turn your settings over to heat. If something is wrong with your thermostat, it can impact how your HVAC systems operate, making your AC and heater less efficient and impacting your comfort.
Clean indoor and outdoor coils. When we remove dust and dirt from the inside of your system, we also check your coils, both indoors and outdoors. You have one set of coils inside your home and another inside of your outdoor unit. We can wipe them down or hose them off to eliminate dust and dirt so the coils can work more effectively. This is especially important outside, where dust and dirt can block airflow to trap heat and humidity inside your home.
Contact RKM Heating and Air Conditioning today to schedule an appointment with us. Done Right, Priced Right.