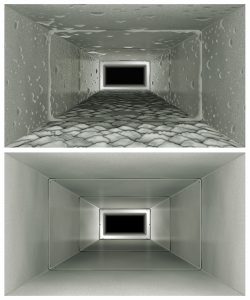 We won't try to tell you that your AC's air ducts are the most filthy and unclean things in the world, but let's look at the facts. The average home is said to collect 40 lbs of dust yearly. Of course, we actively clean and dust our home as part of our weekly chores, or even when we have time to do it. But can you say the same for your air ducts? Just think of how much dust is collected in your ducts after a few years of neglect.
If it's time for you to get a professional air duct cleaning, you can call up for a basic cleaning, or you can go all out. In this post, we'll show you how to make the absolute most of your duct cleaning.
1. Get an Air Quality Test
First, get a thorough analysis of the contaminants and pollutants in your home's airspace. This is going to give you a good idea of what kind of indoor air quality issues your home faces. For example, having a pet means your HVAC air filter could be getting clogged with pet dander. It can also reveal whether or not you have mold growing in your home. Either way, it'll go a long way in helping with the next step…
2. Consider an Air Filter or Purifier
After understanding what kinds of contaminants are floating around in your home's air circulation, the next step would be to think about installing an air filter or purifier. The difference between the two is simple: filters catch the contaminants as they pass through, while purifiers actively clean the air using electricity.
Filters and purifiers are rated for different kinds of contaminants, so you won't want to have one installed before performing the previously mentioned air quality test.
3. Air Sealing
Now that your home is safeguarded against contaminants, it's time to keep it that way. Well, as much as is reasonably possible, at least. A thorough air sealing job will seal up the leaks in your door frames, windows, and other places where large amounts of air can escape.
The primary job of air sealing is to keep your conditioned and heated air inside your home, thus reducing energy costs. On the other hand, it can also prevent contaminated outdoor air from getting inside your home.
4. Duct Cleaning
Did you think we'd forget? Finally, it's time for duct cleaning. A popular duct cleaning method involves sweeping, but we find this to be ineffective. If not done properly, a poor sweeping job can actually loosen up dust and dirt, thus making the problem worse. Truly thorough duct cleaning in Riverside, CA uses a vacuum to ensure that your duct cleaning is going to be worth it until it's time for the next one.