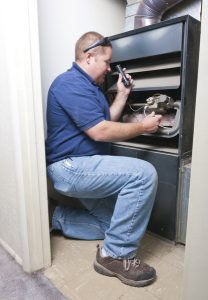 Gas furnaces utilize the burning of gas, and that can bring a slew of problems: carbon monoxide leaks, gas leaks, house fires…
Yet, gas furnaces are one of the most popular heaters used in our country. Does everyone just pretend none of these dangers exist?
Not quite. In reality, the chance of a gas furnace incident is very slim. But that doesn't mean you don't need to take a few precautions to ensure things keep running smoothly. The right combination of maintenance and furnace repair in Murrieta, CA will give you peace of mind all season long.
Keep Up to Date With Maintenance
First off, it has to be said that maintenance is going to prevent almost all of the problems that can lead to an accident with your furnace. If you're not willing to make the annual maintenance calls, you should perhaps consider a heater that uses electricity instead. However, that can come at a greater monthly cost, since electricity is generally more expensive.
Some of the components that require maintenance are:
Gas Burners
Blower Motors
Pressure Switches
Pilot Light or Igniter
Heat Exchanger
Each component does its part to keep the furnace running as a whole. If something happens to one of them, it can lead to problems like overheating.
With every maintenance check, your technician will assess the overall performance and condition of the furnace. They might find, for example, that the heat exchanger has cracked. This is a major cause of carbon monoxide leaks and must be addressed immediately. It's these kinds of things that must be checked annually in order for your furnace to continue running safely.
Know When to Spot a Gas Leak
A gas leak around your furnace is definitely a cause for concern. Instead of trying to correct the problem, it's suggested that you evacuate immediately and call the fire department. Even the smallest spark—such as that form a light flip switching on or off—can be enough to ignite a gas leak.
Natural gas has an odor like rotten eggs, which is added artificially by the gas company. Without it, natural gas would be completely odorless and impossible to detect.
As long as your furnace and gas appliances have been installed by certified experts, there's very little to worry about. They'll make sure not just to install the lines correctly, but to doublecheck them with soap and water to detect any areas where leaks may be occurring.
The biggest reason for gas leaks is often from amateurs doing their own gas line services without proper materials or technique.
Install a Carbon Monoxide Detector
Carbon monoxide forms when gases in the furnace are not burned completely. Usually, these gasses are ejected through a flue pipe, but if the system malfunctions, there's a chance that it can end up inside your home.
Unlike gas, carbon monoxide does not have an odor, which makes it all the more dangerous. CO leaks are silent killers: odorless, colorless, and undetectable by our senses. Headaches, nausea, and other symptoms are the only indication we have that a leak is occurring.
That's why it's required that any home with a furnace should have a carbon monoxide detector installed with it. These are your main line of defense against a carbon monoxide leak. As long as your detector is tested every few months and is in good working order, there's no reason to fear a carbon monoxide leak.