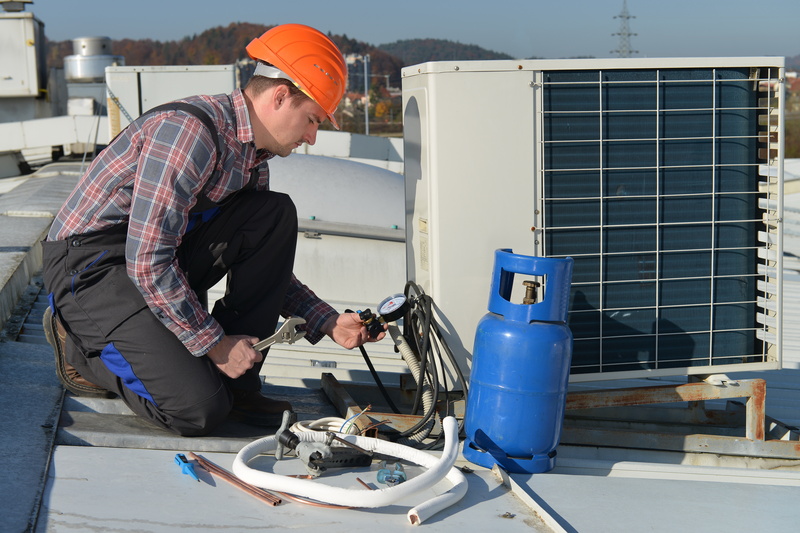 When it comes to heating and cooling your business, you want the best results possible for your team and customers. Many of our commercial clients choose to invest in a rooftop HVAC unit because of the numerous benefits. You may not have noticed a rooftop HVAC system before, but now that you know about them, you will.
But what is it that makes rooftop HVAC units so popular compared to a more traditional model that sits on the ground? You can keep reading to learn more about why most businesses use rooftop HVAC units for their heating and cooling needs. Then, when you're ready for commercial HVAC in Irvine, CA, you can give us a call for the best installation and customer service around. 
Win Back Some Space
Commercial HVAC systems are often much larger than residential HVAC systems because they have much larger spaces to cool. The larger the square footage of your commercial location, the larger the HVAC system you need. While many businesses are large, they don't have extra space for nonessential items.
Of course, an HVAC system is essential, but that doesn't mean you want it in your retail or workspace. When your unit is on the roof, it's out of the way. You don't have to dedicate space to your HVAC system and take away space from other resources. This is especially important for businesses with less space to begin with.
Protect Your Investment
When you own a business, the areas around your location are often open to traffic. This can mean pedestrians and vehicles going by. If your HVAC system is openly accessible to everyone, it may be more likely to get damaged or vandalized. Placing your HVAC unit on the roof prevents some of this damage because the unit isn't as accessible.
Improve Energy Efficiency
Rooftop HVAC units are often more modern than their traditional counterparts. Your rooftop unit may use less energy to heat and cool your space because it has a better SEER or HSPF rating – two of the leading industry standards for HVAC energy efficiency. A rooftop unit may also have better ventilation, meaning better indoor air quality, too.
Access Is Still Easy
If you're wondering about the accessibility of your unit if it's on the rooftop, don't worry! Rooftop units are just as accessible for you as the business owner and our team of professionals. Maintaining your rooftop unit isn't any harder than maintaining an indoor HVAC unit.
In fact, it may be even easier! Traditional units have components spread out over two units – one inside and one outside. A rooftop unit keeps everything together in one place. You don't have to schedule maintenance around when your team is working or your customers are visiting your location. Our team can work and stay out of the way when you have a rooftop unit.
Contact RKM Heating and Air Conditioning today to schedule an appointment with us. Done Right, Priced Right.