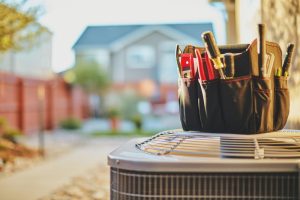 Summer is flying by this year! We're officially entering the last half of summer and we've already seen it all, but scorching temperatures are still on their way! This time of year should make you thankful for your air conditioner, right? Your air conditioner should be able to combat all the heat your home faces without incident.
Weak airflow is one of the most annoying problems that you can face in a home because it's not outright failure. Weak airflow is uncomfortable and it's one of those problems that has the ability to sneak up on you—you might not even notice that it's happening right away. If you're experiencing weak airflow, the easy fix is to call our professionals for air conditioning repair in Anaheim, CA. We're always there when you need us.
Common Causes of Poor Airflow
There are a few common causes of low airflow in a home. Watch out for these AC troublemakers:
Dirty Air Filter
When was the last time that you changed your air filter? Your air conditioner's filter might be one of those things you easily bypass because you think that your AC system can get along just fine without a clean one—this couldn't be further from the case though.
A dirty air filter can accumulate so much dirt that it obstructs the airflow throughout your air conditioning system. You can avoid this problem by repairing or replacing (depending on what your specific AC unit calls for) at least once a season.
Problems with Your Air Ducts
It's more than likely that you have an air duct system that's a little leaky. Over 90% of homes in North American have an air duct system that has a small hole and cracks throughout the system. Allowing your system to have persistent leaking and gapping can reduce your level of home comfort and increase the cost of your cooling. It can also lead to problems with your airflow. Persistent gapping and leaking can reduce the flow of your air through your AC system. Don't settle for faulty ductwork. Instead, call our team for our air sealing services today.
A Frozen Evaporator Coil
Your air conditioner cools your home's air by blowing it over your evaporator coil. The coil should always be cool; however, it should never be too cold or else the condensation on it will freeze. Over time the condensation can freeze the coil altogether and turn it into a big, cumbersome block of ice in your air conditioning system.
You might think that your air blowing over a frozen coil would just lead to extra cold air, right? The sad truth is that the ice limits the amount of airflow in your home and it can cause weak airflow overall. You need to call a professional from our team if you think you have a frozen evaporator coil. Only we have the expertise to get your system back up and running the right way.
You can contact RKM Heating and Air Conditioning for all your air conditioning needs.