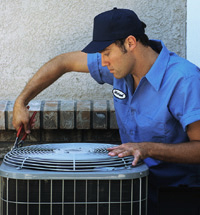 Even though modern technology is often viewed with awe and admiration, it's still prone to error. Air conditioning (AC) systems are especially imperfect, regardless of their quality or the precision of their installation.
At RKM Heating and Air Conditioning, we specialize in preventative services centered around heating and air conditioning systems. By employing us, you can ensure that the air temperature in your home is always ideal.
In this article, we discuss 4 reasons why AC maintenance is so important for modern homeowners, emphasizing how preventative care is critical for avoiding undesirable consequences.
Savings
Many homeowners avoid scheduling regular maintenance of their AC systems because they want to save money in the short-term. Yet, when their AC system breaks down, they are burdened with having to install a completely new system, which can cost thousands of dollars.
In order to avoid these high costs, you should invest in consistent maintenance of your AC system. It will actually save you money in the long-term.
Additionally, inefficient AC Systems require more energy to operate, thus increasing your monthly energy bill. By maintaining your AC system regularly, you actually maximize the efficiency of your energy usage and save money in the short-term as well.
Complexity
Maintaining your AC system is more complex than simply changing your air filter, though even that can be difficult for some homeowners. Maintenance also requires checking AC coils, coil fins, drain channels, and window seals to ensure that the AC system is functioning efficiently. Much of this work requires specialized equipment and the care of a trained technician.
This complexity is only exacerbated by improper maintenance, especially when amateur homeowners try to do these checks themselves amidst busy lives and child-care responsibilities. This can result in a damaged system that becomes more of a hassle to fix in the future.
High Stakes
AC maintenance is important because a cool household is critical for your happiness, especially during the summer. Yet, many homeowners realize this only when the AC stops working, and they are forced to suffer through long, sweaty nights. This ends up affecting their sleep, their health, and even their moods.
By nipping these problems in the bud, you can avoid the negative consequences associated with a broken AC system, which can sometimes take days or weeks to properly fix.
Convenience
A broken AC system can inconvenience you, yet this can be mitigated by scheduling regular maintenance and tune-ups. Even though these still take time out of your day, you have more control over the scheduling since they are not an immediate concern.
However, when your AC system is broken, it becomes an immediate concern, and you often have to stop everything you're doing to focus on its repair. Sometimes this can be the straw that breaks the camel's back.
Our Final Thoughts on the Importance of AC Maintenance
We think preventative care is the most effective care, as it reduces costs, saves time, and prevents negative consequences from occurring.
By employing RKM Heating and Air Conditioning, you can avoid having to maintain your AC system yourself, as we send trained professionals to your home to ensure that a proper inspection is performed.
We focus on AC maintenance in the Riverside area of California, where high heats necessitate a properly functioning AC system. Instead of waiting for the inevitable to happen, contact us today and enlist our services.