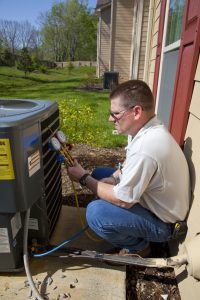 We don't have seasons in the Inland Empire the way the rest of the country does. Our winters are extremely mild and our summers are long and hot. Heaters tend to see us for a few short months in the winter — usually during our cool nights — and air conditioning season starts sooner and sooner every year it seems. We're not even officially into spring yet, and chances are you've had to run your air conditioner a number of times this year already.
In this environment, it can be hard to give your heating and air conditioning system the kind of service it needs to run at its best. Without regular maintenance a breakdown or similar repair issue could catch you by surprise very easily. In our environment, where summer temperatures often hit triple digits, a breakdown could cause serious problems for your home.
Now Is the Time for Maintenance
A maintenance session is the best way of preventing such repairs. It's essentially a tune-up, which gives the technician a chance to look for common problems with the system. Small problems like loose bolts and clogged filters can be addressed as part of the maintenance session. That will improve the system's efficiency — helping to keep monthly bills down — and can stop a number of serious problems before they start. In the case of your furnace, it means giving it a look at the end of its yearly cycle and making sure it doesn't have any problems that could turn around and bite you next fall when you need it again.
For more advanced problems — the kind that require formal repair sessions — maintenance lets the technician spot them before they shut your system down. That tends to keep the costs of repairs down, since the damage doesn't have as much time to spread, as well as letting you schedule repairs before the weather gets too hot.
2 Kinds of Maintenance
We know how important maintenance is for your HVAC system, which is why our team offers maintenance programs to keep your system in great shape.
The Basic Tune-Up includes a 5% discount on repair calls — a way of guaranteeing the quality of our work — as well as an annual maintenance session. It also includes testing for refrigerant leaks, gas leaks, cracks in the heat exchanger of your furnace, and carbon monoxide. It also includes our standard warranty on repairs and a cleaning of the condenser coils in your air conditioning.
The Cool Comfort Club provides a lifetime warranty on all repairs we make, along with two free maintenance sessions each year, it also includes a 10% discount on repair calls, another 10% discount on home comfort items such as air filters, an extended two-year warranty on repairs, and priority service year round, as well as the benefits of the Basic Tune-Up.
HVAC maintenance is vital in towns like Riverside, CA, where our temperatures can climb into the triple digits. Call RKM Heating & Cooling today to get your system serviced the right way.