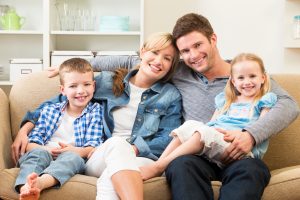 Most homeowners in the area rightfully focus on temperature control when keeping their houses comfortable. Our summers are long and staggeringly hot, and without a good air conditioner, you might just melt on the spot. But as important as it is, it's not the only aspect of home comfort. Indoor air quality can play a huge role in making your house feel right. We get a lot of dust in the air in the Inland Empire, especially in the summer, as well as high humidity levels and the proliferation of germs and allergens.
An indoor air quality device installed in your HVAC system can do wonders for improving your home's atmosphere. And while every home is unique, the addition of a REME HALO In-Duct Air Purifier can handle a wide variety of possible issues very easily. Here's how it works.
Working with Your System
Most air purifiers work in conjunction with your heating and air conditioning systems, since that's the easiest way to treat the maximum amount of air in your home. As your AC or heater runs, it pulls air from your home into it. An IAQ system such as an air filter or a UV air purifier can then "scrub" the air as it passes through the system. It works well, with the HVAC system cycling the air for the IAQ product to purify.
REME HALO In-Duct Purifiers take advantage of your heating and air conditioning system the same way: they're designed to be installed within the system's supply plenum (the air distribution box where conditioned air passes from the system into the ducts). It does far more than simply screen out contaminants, however, which is a big part of what makes it special.
Purifying Plasma
The secret of the REME HELO unit is the way it produces hydro-peroxide plasma: a naturally occurring compound that Mother Nature uses to clean the air. The charged plasma circulates through your entire home – blown by the air conditioner – and causes dust and germ particles to stick together: making them much easier for the air filters in your system to capture them.
Because the unit is designed to distribute the plasma throughout your home as part of the normal air conditioning process, it can reach dust and other contaminants in the home without waiting for those contaminants to circulate through the heating and air conditioning system. As a result, it can provide a much cleaner household than most other types of IAQ products. It can be installed by any trained HVAC professional, and the benefits it provides can be felt for years afterward. Best of all, you don't need to take any extra steps to get it to work once it's in place. Just run your heater or AC as normal and let it do its job. Now is an excellent time to schedule an installation, with winter still here and warm weather at least a few weeks off.
For indoor air quality services of all varieties in Riverside, CA, call on RKM Heating and Air Conditioning today!