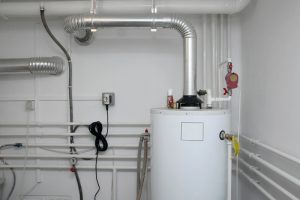 Perhaps your water heater has suddenly quit working. Maybe the bottom rusted out, and you suddenly have 30-60 gallons of water on the floor. Then again, you may want to replace the one you have before it's a crisis, or you need one for a new home. No matter what, there are a variety of factors which contribute to choosing the right water heater. We'll look at some different options and features below so you can determine which one is best for you.
Choosing the Right Water Heater
You may want to save a few dollars by installing a water heater yourself. Don't do it! Water heaters are typically found in tight spaces and involve your plumbing system as well as gas or electricity. What starts out as a Saturday afternoon project can easily turn into a bigger headache than you ever imagined.
Play it safe. After you make the right decision, call a professional for water heater installation in Riverside, CA.
Tank vs. Tankless
Tank water heaters are the option most homeowners are familiar with. Tank size typically ranges from 30-60 gallons, and water is heated by either a gas or electric heating element. One disadvantage is water is kept hot 24/7 no matter how little you may be using. Plus, once a tank of hot water has been used, you'll have to wait for more to heat up.
A newer option is the tankless water heater. Mounted on a wall and taking up less space than a tank unit, the tankless model heats water directly while it flows through pipes. This means you have an unlimited source of hot water. Then again, the amount of water available at any given time is dependent on pipe diameter. If you need hot water for multiple bathrooms, your kitchen, and a washing machine at the same time, you'll have to install more than one unit.
Gas vs. Electric
Both tank and tankless systems come in gas and electric models. Gas is typically cheaper per British thermal unit (BTU) than electricity. Plus, in a tank system, gas will heat water more quickly than electricity. A gas unit will likely work during a power outage too.
On the other hand, electric water heaters are significantly more efficient than gas units, and that can offset the difference in price per BTU. An electric heater does not have a standing pilot light like its gas counterpart. That increases safety as you don't have to worry about a carbon monoxide leak due to a pilot light going out.
Water Heater Installation
Whether you're replacing your water heater before it goes out or you're in the middle of a plumbing emergency, it'll be a significant financial investment. Don't let just anyone handle this for you. RKM Heating and Air Conditioning technicians have National Association of Technician Excellence (NATE) certifications, and we received the Angie's List Super Service Award from 2011-2016.
We'll help you make the right choice! Contact RKM Heating and Air Conditioning today.