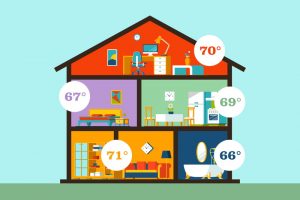 Temperature zoning can offer you unmatched flexibility and efficiency with your air conditioning and heating. We definitely think that installing it is a good idea. We won't say "yes," because it might not be the right decision for you. However, if this is the first air conditioner you're installing, we believe that you should strongly consider whether you want temperature zoning installed. Regardless of if that's a "yes" or "no" from you, knowing your options will prevent you from feeling any regret later on down the line.
What Is Temperature Zoning?
With a normal central AC setup, you only have two options: cool the entire home, or don't cool it at all. While central ACs do manage to cool your whole home very efficiently, the fact remains that you might not always want every single room in the house to be cooled.
However, temperature zoning gives you the control to solve this very problem. Your home will be separated into several zones that are then controlled with their own, individual thermostats.
This means your entire family can be in the living room with the AC blasting, and the unoccupied rooms can remain at a temperature closer to the outdoor temperature (thus saving energy). Then, when it comes time for everyone to disperse into their own bedrooms, they can be enjoyed at whatever temperature they please.
Temperature zoning can provide maximum flexibility for maximum comfort, or it can help you become efficient and use energy only as necessary—it's entirely up to you.
However, It Needs to Be Considered Before Installation
Retrofitting a central AC system with temperature zoning will most likely be more trouble than it's worth. Every temperature zoning system must be specifically designed for your home, from the ducts to the thermostat location. Depending on the age of the equipment in your current HVAC system, it might require additional—and costly—air conditioning services in Riverside, CA.
This is why we strongly urge you to consider temperature zoning before you commit to an installation. If you're unsure about it, be sure to talk with your HVAC contractor to consider all of your options. Not every home is the same, so you won't know what's possible until you talk to a professional.
So, What If I Already Have a Central AC System Installed?
If you fall into this category and find it's too much trouble to install temperature zoning, you can consider going with a ductless mini-split system. This system consists of multiple indoor, individually controlled units for each room.
It won't solve the problem outright, but it might be able to give you some more control that you desire. There are two ways you can integrate them:
Full Replacement: If it's time to upgrade your AC anyways, it might make more sense to switch to this system for your whole house. This will give you a similar result that temperature zoning would.
As Needed: You can also try installing a ductless air handler in certain rooms and then simply not use the central AC system unless necessary. This way allows you to still be very specific about which rooms do and do not receive treated air.