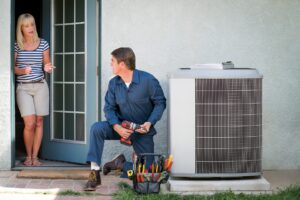 If it's time to replace your home's air conditioner, you may have a lot of questions about the installation process. After we complete the first steps of getting you an in-home assessment and quotes based on your options, the next step is the installation itself.
And our team are experts at air conditioning installation in Corona, so you are in good hands. You can keep reading to learn more about what we do during an air conditioner installation and how long the process takes. This can help you feel more confident about what to expect when we arrive at your home.
Installation Timeline
Installing a new air conditioning system can take anywhere from four to eight hours, depending on several factors. First, we want to take into consideration the size of your air conditioner. The larger the unit, typically the more involved the installation process is.
Existing Unit
Keep in mind that part of our installation process is taking out your old unit. And we want to do that part right to make the installation process even easier. We will maximize the use of any existing components you have. This includes electrical wires and ductwork.
Of course, if any of it needs to be replaced, we will do so during our installation process. If you have an installation scheduled, then you already know what to expect. During our initial assessment, we review what we expect to be able to reuse and what we need to replace.
Accessibility
The accessibility of both your indoor and outdoor units can impact how long installation takes. If you have any components that are in hard-to-reach areas, installation can take longer. Our team wants to be careful and take care to do it right the first time. If there are any steps we can take to improve accessibility, we will do so during our installation process.
Testing
A major part of installation also involves testing your new unit. This part of the process alone can take an hour or longer. That's because we want to turn your unit on and off multiple times. We want to set your temperatures higher and lower and make sure that your air conditioner responds as it should.
We will also measure your indoor air temperature to ensure your air conditioner meets expectations. If there is anything that needs improving as we walk through this testing process we can make tweaks as we go to maximize efficiency.
And once we know everything is working correctly, we will talk to you about how to use your new air conditioner as well as offer tips and tricks to help you maximize efficiency. Even though you've probably operated a variety of air conditioners in the past, we want to make sure you know about this unique unit. These tips include:
Pour vinegar into the condensate drain line every month.
Change the air filter on time each month, if not a little sooner.
Call for AC service anytime you notice something unusual to stay ahead of problems.
Contact RKM Heating and Air Conditioning today to schedule an appointment with us for AC installation. Done Right, Priced Right.