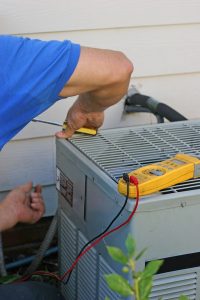 The calendar says its summer, but we're still in that awkward stage of our weather here in Riverside. It's common for us to have a couple scorching hot days punctuate our rather gloomy early summer weather, but we're still not quite in that period where we need our AC unit every day. We know that you've probably turned on your air conditioner at least once so far in this season. If you've noticed literally any issues with your air conditioner in your home, it's time for you to contact our technicians. We specialize in AC maintenance in Riverside, CA and we can help you fine tune your home.
3 Key Signs That You Need Maintenance Services
It's time for you to upgrade your air conditioning system if you can relate to any of the following:
A Lack of Cooling Power: If your air conditioner is tuned up correctly it should blow a strong stream of cool air when you want it to. Do you turn on your air conditioner wait for a long period of time to cool off? Do you feel like your home never reaches its desired temperature? If you can answer "yes" to either of these questions, it's time to rely on a professional team to tune-up your air conditioning system.
Your Cooling Bills are Too High: Unfortunately, you're not in the clear if your air conditioner is blowing cool air. You need to consider the overall function of your air conditioning system. You need to check in on your utility bill if you want to make sure that everything is really in great shape. High cooling bills are a clear sign that your air conditioner is struggling. Maintenance is a great way to increase the cooling power of your system and lower the cost of your energy bills in one simple appointment.
Low Air Flow: Sometimes you'll turn on your air conditioner and realize that the cooling power coming from your vents leaves a lot to be desired. This can happen when you go for a long time without maintenance services. Maintenance gives our professionals the opportunity to get deep down into your air conditioning system and clear out any build-up that's preventing your AC system from functioning as it should.
Contact our team sooner than later if you're experiencing any of these problems.
Choose Our Team!
Finding service that you can count on is much easier said than done in Riverside. We're unique in the sense that our area is overrun with HVAC companies that specialize in air conditioning services. It's important to remember that not all HVAC companies are built the same though. We're different at RKM because we keep integrity at the forefront of all the work we do. All our service professionals are trained, NATE-certified, and ready to help you keep your home cool this summer. Our service is always "Done Right, Priced Right."
Contact our team at RKM Heating and Air Conditioning when you're ready to maintain your current AC system. You can schedule an appointment with our technicians today!